PBA Fleet: Cessna AT-17 Bobcat
The Cessna AT-17 Bobcat is a twin-engined advanced trainer aircraft designed and made in the United States, and used during World War II to bridge the gap between single-engined trainers and twin-engined combat aircraft. The AT-17 was powered by two Jacobs R-755-9 radial engines. The commercial version was the Model T-50, from which the AT-17 was developed.
General Characteristics (AT-17)
Crew: 1
Capacity: 4 passengers
Length: 32 ft 9 in / 9.98 m
Wingstrong: 41 ft 11 in / 12.78 m
Height: 9 ft 11 in / 3.02 m
Wing area: 295 sq ft / 27.4 m²
Operating Empty weight (OEW): 3,500 lb / 1,588 kg
Gross weight: 5,700 lb / 2,585 kg
Max Takeoff Weight (MTOW): 6,062 lb / 2,750 kg
Powerplant: 2 × Jacobs R-755-9 seven-cylinder, air-cooled, radial piston engine, 245 hp / 183 kW each
Maximum speed: 169 kts / 195 mph / 314 km/h
Cruise speed: 152 kts / 175 mph / 282 km/h
Range: 750 mi / 1,210 km
Service ceiling: 22,000 ft / 6,700 m
Three-View Drawing (AT-17)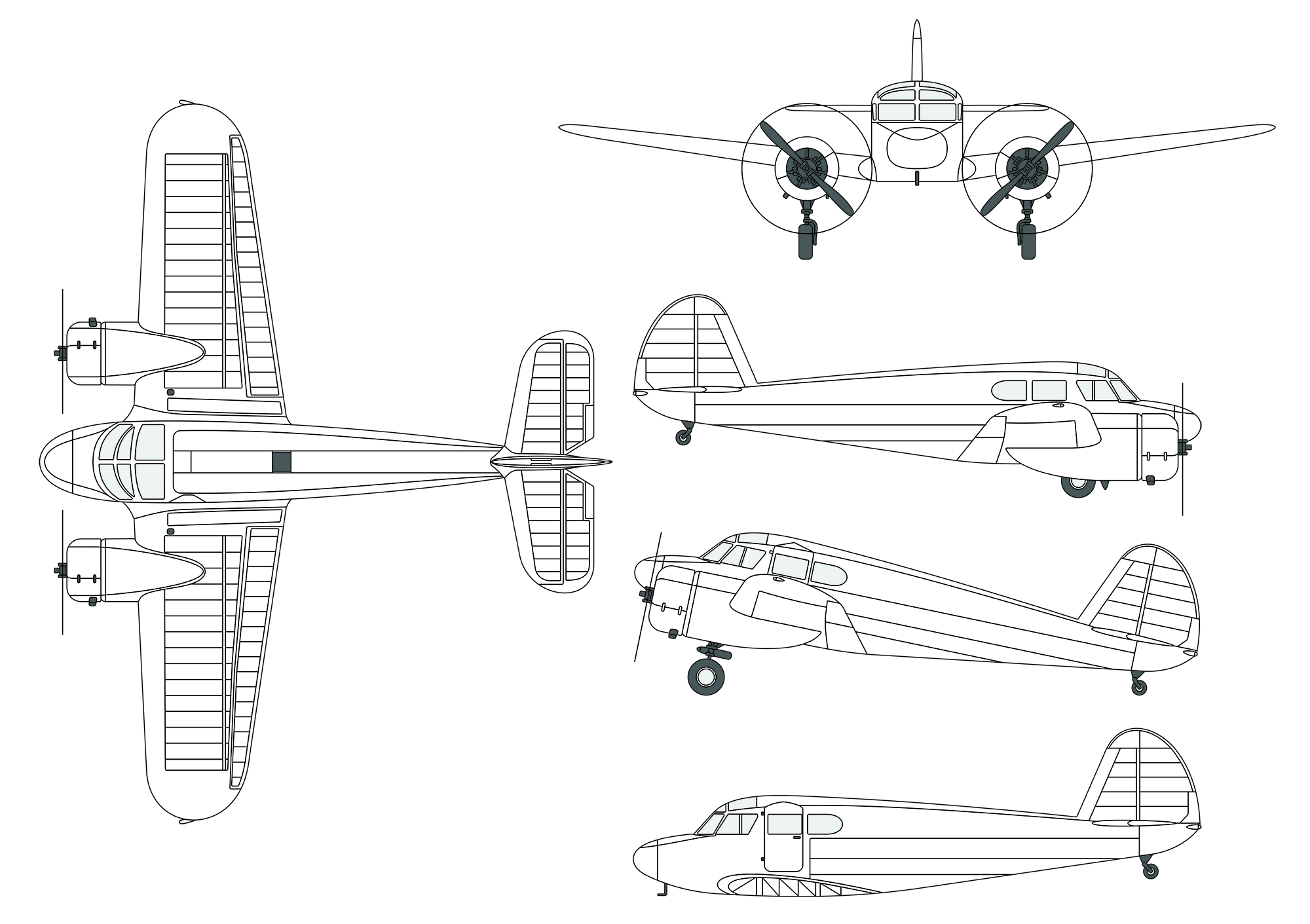 The PBA Cessna AT-17 Bobcat Fleet
Photos of the entire fleet of Cessna AT-17 Bobcats are published below. Click on each of them for information and photos. Aircraft are sorted by Registration (N-Number) with prior registrations in parentheses where applicable.
If you would like to contribute any photos, scans, documents — then please
contact us
as we'd love to expand this site.