The Piper J-3 Cub is an American light aircraft that was built between 1938 and 1947 by Piper Aircraft. The aircraft has a simple, lightweight design which gives it good low-speed handling properties and short-field performance. The Cub is Piper Aircraft's most-produced model, with nearly 20,000 built in the United States. Its simplicity, affordability and popularity invokes comparisons to the Ford Model T automobile.
The aircraft is a high-wing, strut-braced monoplane with a large-area rectangular wing. It is most often powered by an air-cooled, flat-4 piston engine driving a fixed-pitch propeller. Its fuselage is a welded steel frame covered in fabric, seating two people in tandem.
The Cub was designed as a trainer. It had great popularity in this role and as a general aviation aircraft. Due to its performance, it was well suited for a variety of military uses such as reconnaissance, liaison and ground control. It was produced in large numbers during World War II as the L-4 Grasshopper. Many Cubs are still flying today. Cubs are highly prized as bush aircraft.
The aircraft's standard chrome yellow paint came to be known as "Cub Yellow" or "Lock Haven Yellow"
General Characteristics (J3C-65 Cub)
Crew: 1
Capacity: 1
Useful load: 455 lb / 205 kg
Length: 22 ft 5 in / 6.83 m
Wingspan: 35 ft 3 in / 10.74 m
Height: 6 ft 8 in / 2.03 m
Wing area: 178.5 sq ft / 16.58 m²
Empty weight: 765 lb / 345 kg
Max takeoff weight: 1,220 lb / 550 kg
Powerplant: 1 × Continental A-65-8 air-cooled horizontally opposed four cylinder, 65 hp / 48 kW at 2,350 rpm
Maximum speed: 76 kts / 87 mph / 140 km/h
Cruise speed: 65 kts / 75 mph / 121 km/h
Range: 191 nmi / 220 mi / 354 km
Service ceiling: 11,500 ft / 3,500 m
Rate of climb: 450 ft/min / 2.3 m/s
Wing loading: 6.84 lb/sq ft / 33.4 kg/m²
Power/mass: 18.75 lb/hp / 11.35 kg/kW
Three-View Drawing (J3C-65 Cub)
The PBA Piper J3C Cub Fleet
Photos of the entire fleet of Piper J3C Cubs are published below. Click on each of them for information and photos. Aircraft are sorted by Registration (N-Number) with prior registrations in parentheses where applicable.
If you would like to contribute any photos, scans, documents — then please
contact us
as we'd love to expand this site.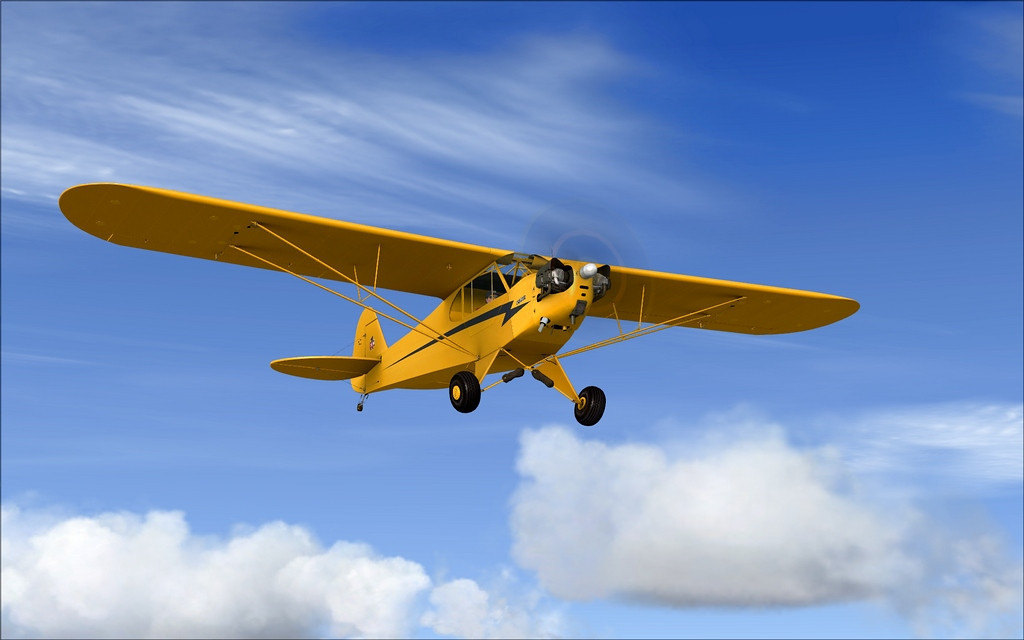 Piper J3C-65 Cub | MSN 18985 | N98758